For 30 years, the laureates of the Right Livelihood Award (also known as the Alternative Nobel Price) have shown that real change is possible. The solutions exist. And, as the laureates` successful projects and initiatives prove, these solutions work.
Informing young people about the great need to act and showing them possibilities to get involved is the first step in achieving sustainable change. The experience, knowledge, and ideas of the RLA laureates, as well as their projects, need the active contribution of young people.
So the Youth Future Project brought together the following role models with 120 young people from all over the world (16 nations) during the first Youth Future Conference, which took place in Bonn, September 2010.
The keynote speaker on tuesday

Protector of Consumers

Prof. Dr. Anwar Fazal (Malaysia, RLA 1982, director of the RLA-College) received the Right Livelihood Award for his fight for consumer's rights and his insistence on the global implementation of those rights. He is the founder of numerous international networks for consumer protection:
-Consumer Interpol, a global warning system against harmful products
-International Baby Food Action Network promoting breast feeding
-Health Action International (HAI), an organization acting as a watchdog over pharmaceutical companies
-Pesticide Action Network (PAN), a global coalition that fights against pesticides and toxins in farming
He was also awarded the UN's Global 500 Award for his work in 1988.
Lecture on wendnesday
Critic of globalisation
Tony Clarke  (Canada, RLA 2005) received the Alternative Nobel together with Maude Barlow "… for their exemplary and longstanding worldwide work for trade justice and the recognition of the fundamental human right to water."
Both Maude Barlow and Tony Clarke are long-term activists on trade and justice issues, now with a special focus on water, whose campaigning lives have intertwined for many years.
Quotation:
"Under the current model of globalization, everything is for sale. Areas once considered our common heritage are being commodified, commercialized and privatized at an alarming rate. Today, more than ever before, the targets of this assault comprise the building blocs of life as we know it on this planet, including freshwater, the human genome, seeds and plant varieties, the air and atmosphere, the oceans and outer space. The assault on, and defence of, the commons is one of the great ideological and social struggles of our times."
Activist for fair globalisation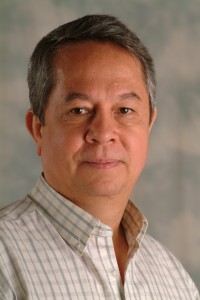 Nicanor Perlas (Philippines, RLA  2003) "…for his outstanding efforts in educating civil society about the effects of corporate globalisation, and how alternatives to it can be implemented."
Nicanor Perlas was born in 1950, and graduated with highest honours in agriculture from Xavier University. He gave up his master's degree after being drawn into the struggle against the Marcos-promoted Baataan nuclear plant in 1978 and had to leave the Philippines after organising a conference to expose its dangers.
Quotation:
"We are in fact faced with very deep spiritual social problems, which require spiritual responses from us. Ordinary, secular, materialistic answers will not do. For behind every act of social resistance and creativity is a spiritual act. Spiritual revolution must have happened first within us before we can create the new world we all long for."
Lecture on thursday
The organisation
Survival International Represantative: Stephen Corry (UK, RLA 1989)"…for working with tribal peoples to secure their rights, livelihood and self-determination."
Survival International was founded in 1969 to help tribal peoples to exercise their rights to survival and self-determination; to ensure that the interests of tribal peoples are properly presented in all decisions affecting their future; to secure for tribal peoples the ownership and use of adequate land and other resources and to seek recognition of their rights over traditional land.
"Tribal peoples number some 200 million, just 4% of the world's population. Too often treated as obstacles to progress, objects of study, the exotic showpieces of tourism or potential converts to another religion, they are, in fact, members of complex and viable societies with a sense of purpose, fulfilment and community that many in our 'modern' societies might envy. Their apparently simple technology enables them to live well in supposedly inhospitable areas which defeat our own 'high' technology… Meanwhile, we make deserts of their homelands and call it 'development'." (Survival publication)
Quotation:
"Twenty years ago we heard many predictions that there would be no Indians left in Brazil by the end of the decade. These gloomy forecasts were wholly wrong. We are now optimists – hopeful that right thinking will prevail and the destruction of tribal peoples and their environments will stop. Tribal peoples will survive against extraordinary odds – but they do need the help of concerned people throughout the world." 

A lecture by Alyn Ware will conclude the conference on sunday

The peace activist

Alyn Ware (New Zealand, RLA 2009) eceived the Alternative Nobel Prize "…for his effective and creative advocacy and initiatives over two decades to further peace education and to rid the world of nuclear weapons."
Workshops on thursday
The scientist
Rosalie Bertell (Kanada, RLA 1986) received the award together with Alice Steward (Ɨ2002) for "raising public awareness about the destruction of the biosphere and human gene pool, especially by low-level radiation." Since the 1970s, Bertell does research on diseases caused by environmental pollution and searches for the causes of leukemia. Apart from many other important discoveries, she was able to show a relation between increased emissions of radioactive gases from a Wisconsin nuclear power plant and an increased infant mortality rate in the region. Bertell has received numerous other prizes and honorary doctorates.
The youth center in a country struggling with civil war
"Centre Jeunes Kamenge" (Burundi, RLA 2002)(Burundi, RLA 2002) was awarded the Alternative Nobel Prize "for their exemplary courage and compassion in overcoming ethnic divisions during civil war so that young people can live and build a peaceful future together." The youth center, founded in 1991, creates a space where young people of different ethnicities learn how to encounter others peacefully and with respect. They tackle issues of drug and alcohol abuse, prostitution, HIV/AIDS, unemployment, and crime. The center provides a library, courses in sciences, human rights, and languages. At the core of the project is the aim to create a civil society that can overcome the traumas of civil war.
The medicine for cancer
Dr. Samuel Epstein (USA, RLA 1998) "…for his exemplary life of scholarship wedded to activism on behalf of humanity."
Samuel Epstein was born in England in 1926, graduated as a doctor and rose to work as a consultant pathologist at major institutions and hospitals at London University before emigrating to the US in 1960. He worked at the Children's Cancer Research Foundation and Harvard School of Public Health in Boston from 1960 to 1970, and then as "Distinguished Professor" at Case Western Reserve
University in Cleveland. In 1976 he took a position of Professor of Occupational and Environmental Medicine at the School of Public Health at the University of Illinois in Chicago, where he is now emeritus.
Quotation:
"We are losing the war against cancer. The prohibition of new carcinogenic products, reduction of toxins in use, and right-to-know laws – these are among the legislative proposals which could reverse the cancer epidemic."
The human rights lawyer
Felicia Langer (Poland, RLA 1990) was recognized for her "exemplary courage of her advocacy for the basic rights of the Palestinian people." Langer has been promoting the rights of the Palestinian people for 20 years, demanding an end of the occupation and an independent Palestinian state. For 20 years, she resisted harassment and attempts of assault before leaving Israel in 199o to settle down in Germany.
The organisation for human rights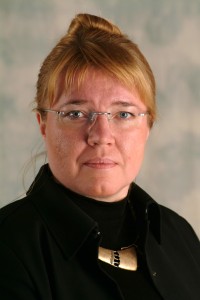 Memorial Represantative: Elena Zhemkova (Russia, RLA 2004) "…for showing, in traumatic times, the importance of understanding the historical roots of human rights abuse, to secure respect for them in the future."
Memorial is the short name of the International Volunteer Public Organisation Memorial Historical Educational, Human Rights and Charitable Society. It was founded at the end of the 1980s as a result of a major movement in October 1988, which took the form of Initiative Groups appearing in Moscow, St. Petersburg and other cities. The union of regional Memorial societies was the first non-politicial NGO not organised by the state in Russia's recent history. Its first leader was Andrei Sakharov. Today Memorial unites 89 organisations: in many regions of Russia, in Ukraine, in Poland, Latvia, Germany, Kazakhstan and Italy. Its 18-member Board of Directors is elected every 4 years at a conference of all Memorial member organisations
Quotation:
'The spirit of our work is the fight for truth and law. Attempts to comprehend the past and to find answers to present-day challenges are indispensable elements of this fight.'

The international organization for aid, environment, and human rights
Plenty International (USA, Guatemala, Lesotho, RLA 1980), Representative: Dr. Peter Schweitzer; – received the RLA "for caring, sharing and acting with and on behalf of those in need at home and abroad." Plenty International has enabled more than 120 village communities of women from Chiapas, Mexico and Guatemala to gain economic independence.
The architect
John F. C. Turner (GB, RLA 1988) was recognized "for championing the rights of people to build, manage and sustain their own shelter and communities." Turner coordinated the Habitat International Coalition (HIC) from 1983 to 1986, promoting the right of people to live in a secure and dignified habitat.
The Scientist
Legesse Wolde-Yohannes (Ethiopia), a scientist working on the prevention of tropical diseases received the RLA in 1989 together with Aklilu Lemma (†1997) "for discovering and campaigning relentlessly for an affordable preventative against bilharzia." Lemma discovered the Endod-plant as an easy and affordable remedy against bilharzia (a deadly disease transferred by tropical snails and worms, which has infected more than 200 million people in 74 states of Africa, Asia, and Latin America). The drug, however, could not enter the market, because it was unprofitable for pharmaceutical corporations and research results from developing countries were disregarded.
The activist against nuclear weapons
Trident Ploughshares Represantative: Angie Zelter (UK, RLA 2001) "… for providing a practical model of principled, transparent and non-violent direct action dedicated to ridding the world of nuclear weapons." The UK has four nuclear submarines, each carrying upto 48 warheads, each of which can be sent to a different target. Each warhead has an explosive power of up to 100 kilotons, the equivalent of 100,000 tons of conventional high explosive. This is 8 times the power of the atomic bomb that was dropped on Hiroshima in 1945.The submarines are based at Faslane, near Glasgow.
Quotation:
"Trident Ploughshares is based on taking power back and transforming it into processes capable of enhancing fundamental human morality. It aims to empower ordinary citizens to peacefully tear down the machinery of violence and to build up respect for fundamental human rights."
Workshops on friday
The visionary and activist of religious tolerance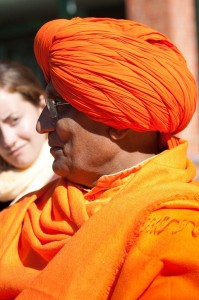 Swami Agnivesh  (Indien, RLA  2004)and Ashgar Ali Engineer were recognized "for promoting over many years in South Asia the values of religious and communal co-existence, tolerance, and mutual understanding." Agnivesh is a co-founder of the political party Arya Sabha. They aim to foster a lifestyle called 'social spirituality' that rejects both capitalism and communism. In 1977, Agnivesh became the Indian secretary of education, but resigned his post to be involved in the social movement. He became famous for his work with Bandhua Mukti Morcha, fighting against forced work and child labor. He is also known for his 18-day march against the burning of widows and protests against infanticide of female babies.
Asghar Ali Engineer (India, RLA 2004) "…for promoting over many years in South Asia the values of religious and communal co-existence, tolerance and mutual understanding."
Asghar Ali Engineer was born in 1940, and took a BSc. in civil engineering from Vikram University. From 1980 he edited the journal The Islamic Perspective, and during the 1980s he published a string of books on Islam and communal violence in India, the latter based on his field investigations into the communal riots in post-independence India. By 1987 he was well enough known to receive the Distinguished Service Award from the USA International Student Assembly and the USA Indian Student Assembly. In 1990 he received the Dalmia Award for communal harmony and is the recipient of three honorary doctorate degrees.
The human rights activist
Martin Almada (Paraguay, RLA 2002) received the Alternative Nobel Prize "for his outstanding courage in bringing torturers to justice, and promoting democracy, human rights and sustainable development." With his discovery of the 'secret archives of terror', Almada could successfully unearthed numerous crimes against humanity during the torturing military junta under Alfredo Stroessner until 1989 in Paraguay.
The lawyer of the disenfranchised
András Biró and the Hungarian Foundation for Self-Reliance (Bulgaria/ Hungary, RLA 1995) were recognized "for their resolute defense of Hungary's Roma minority and effective efforts to aid their self-development." Biró is the director of the 'Bureau for the Defense of the Rights of National and Ethnic Minorities' that gives legal support to victims of violent hate crimes. The HSFR awards prizes in tolerance to journalists, whose work promotes the understanding and harmony between various ethnicities.
The Movement for the Advancement of Science
"Kerala Sastra Sahithya Parishat" Represantatives: Narayanan and P K Ravindran (KSSP, India, RLA 1996) was recognized "for its major contribution to a model of development rooted in social justice and popular participation."
The foundation of KSSP, which literally means Science Writers' Forum of Kerala, can be traced back to that of a Science Literary Forum in 1957 by a group of concerned activists and science writers. KSSP was established in 1962. By 1968, having made touch with scientists from Kerala working all over India, KSSP was a well-defined organisation with a focus on the popular communication of science in Malayalee, the local language, and had become a movement for the mass dissemination of science in Kerala.
Quotation:
"KSSP values human resources as the greatest promise of a nation's future. The best test of a country's future is the edifying impact of the classroom, the extramural attainments and the scientific temper generated in the youth."
The movement for rural development
Kylätoiminta / Finnish Village Action Representative: Tapio Mattlar (Finland, RLA 1992) "…for showing a dynamic path to rural regeneration, decentralisation and popular empowerment."
During the 1960s and early 1970s, Finland experienced rural depopulation. By 1974, however, there were first signs of a modest rural revival, which, in 1976, came to the attention of Lauri Hautamäki, later Professor at the University of Tampere in the Department of Regional Studies. He started a project of Action Research into this embryo movement, to evaluate the potential for revitalisation of rural communities. The new ideas of the project (e.g. "concrete utopias") caught the public imagination. In less than ten years (1977-1985), the number of Village Committees rose from 50 to 2,000. In 2009, there were about 4,000 villages in Finland, almost all of them with their own Village Committee or Village Society to co-ordinate the development work of the village. In addition, village activists have organized provincial Village Action Societies in all twelve provinces of Finland. Even on the national level there is an organization, Suomen Kylätoiminta ry., founded by some country life oriented associations, which supports the work of the village. Quotation:
"We are not willing to regard economic values as more important than the quality of life. We believe in the right of people to decide over their own lives. We are particularly happy if our movement can be an encouraging example for rural people, demonstrating that vibrant village life is not inconsistent with development."
 The Environmentalist
Prof. Dr. Raúl Montenegro  (Argentina, RLA 2004) received the Alternative Nobel Prize "for his outstanding work with local communities and indigenous people to protect the environment and natural resources in Latin America." As a professor for evolutionary biology in Cordoba, he is the founder and director of he environmental organization FUNAM. For many years, he has fiercely resisted the dangers of nuclear energy, he is responsible for the declaration of six national parks, and he prevented the clearance of over 500.000 hectares of forest.
The global food activist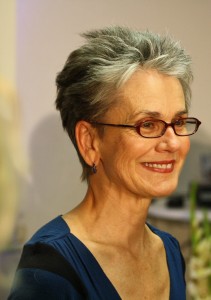 Frances Moore Lappé and the Institute for Food and Development (RLA 1987) received the Alternative Nobel Prize "for revealing the political and economic causes of world hunger and how citizens can help to remedy them." Her book Diet for a Small Planet, published in 1971, sold more than 3 million copies. She proposes a new kind of agriculture based on subsistence farming, the elimination of vast food surplus production in developed countries and the focus of developing countries on the domestic supply rather than export of agricultural goods. 'No society can realize the promises of democracy while people are starving', Moore says.
The expert and critic of nuclear energy
Mycle Schneider (Germany, RLA 1997) received the RLA together with Jinzaburo Takagi (†2000) for the excellent scientific research and its effective communication to the public. Schneider's research has informed the global public about the dangers and effects of plutonium on humans. This has inspired many to resist the disinformation spread by lobbyists of the nuclear energy industry.
The visionary of a socially conscious Buddhism
Sulak Sivaraksa (Thailand, RLA 1995) was awarded the prize "for his vision, activism and spiritual commitment in the quest for a development process that is rooted in democracy, justice and cultural integrity." 'Only by intense observations of his surroundings and nature can man know himself and only who attempts to know oneself will truly understand man's relationship with nature.'
The Participatory Institute for Development Alternatives
PIDA, Representative: Dr. Ponna Wignaraja (Sri Lanka, RLA 1982) received the award "for developing exemplary processes of self-reliant, participatory development among the poor in Asia." The institute's researchers live with the local communities and help to analyze existing social, political, and economic structures. Thus, locals can experience new possibilities of improving their situation through reorganization of labor structures and community support programs.