Da wir viel Wert auf Klimaschutz legen, wird es auf der Konferenz nur vegetarisches (bzw. auf Wunsch sogar verganes) Essen geben.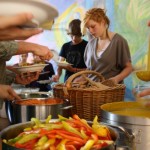 Als Partner von "Sustainable Bonn" legt die Jugendherberge Bonn bei der Verpflegung von Haus aus schon großen Wert auf Nachhaltigkeit: Es wird nur TransFair-Kaffee serviert und Vollkornbackwerk aus kontrolliert biologischem Anbau angeboten. Auch religiöse Essgewohnheiten werden selbstverständlich gerne berücksichtigt (bitte bei der Anmeldung angeben). Alle Mahlzeiten werden in Büfettform angeboten.
Dank des vorbildlichen Entgegenkommens der Jugendherberge dürfen wir während der Konferenzwoche den Einkauf der Lebensmittel für uns übernehmen. Um eine nahezu 100%ige Bio-Verköstigung zu ermöglichen werden wir mit regionalen Biohöfen und Naturkostgroßhandeln kooperieren. Wir organiseren somit die Bio-Lebensmittel, die dann in der Küche verarbeitet werden.
Since we want to protect our environment and climate, only vegetarian food (if desired even vergan food) will be served at the conference.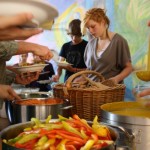 As official partner of "Sustainable Bonn" the Youth Hostel is comitted to sustainable consumption innately: Only TransFair coffee is served and whole-grain bread from organic farming is offered. Of course also religious diets are not a problem (please indicate so in your application). All meals are offered in buffet form.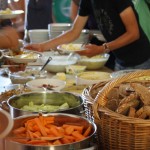 Thanks to the outstanding cooperation of the hostel, we are allowed to take care of ordering our own food during the conference week: This enables us to a get a nearly 100% organic catering. Ee will cooperate with local organic farms and organic-food-wholesale-partners. Like this, we organise the organic food ourselves, which then will be prepared for us in the hostel kitchen.